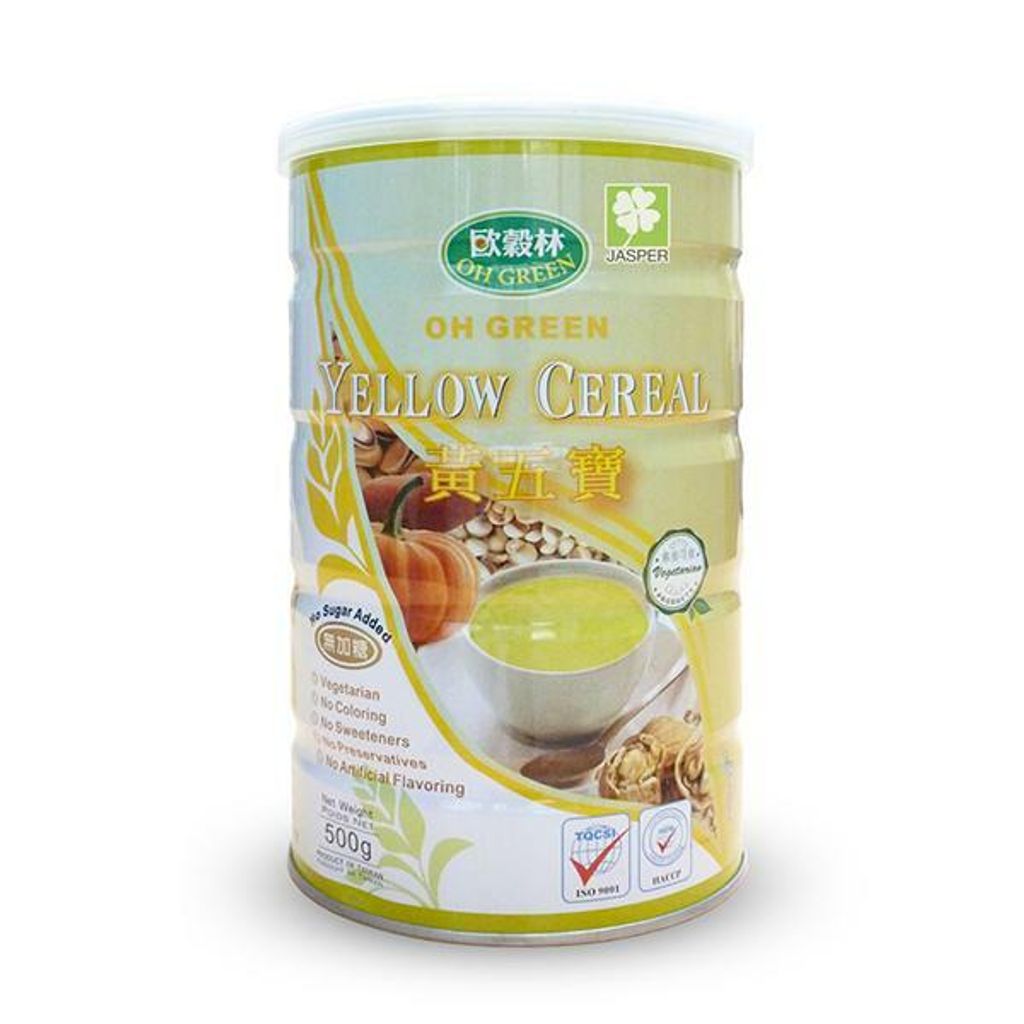 Oh Green Yellow Cereal Powder 生机黄五宝, Yellow Cereal Powder 生机黄五宝
Human's heart, liver, spleen, lung and kidney, is related to five colors: red, green, yellow, white and black. Based on China's Five Elements Theory, when liver is healthy, heart follows. When heart is healthy, the spleen follows. Following, the lungs and kidneys turn better. Your health comes from the reconciliation of internal organs of body, when they achieve balance, you will be healthy.
Certified ISO22000,HACCP
Ingredient: Yellow sweet potato, soy bean, pumpkin, pine nuts and walnuts.
The spleen is in line with the color yellow:
Yellow Cereal is superfood suitable for:
Endocrine disorders
Promote secretion of female hormones
Enhance gastrointestinal function
Physiological issues
Irregular menstruation
Hectic lifestyle
Patients with stomach disease
Patients with poor eyesight
人体中的心、肝、脾、肺、肾对应五色中的红、绿、黄、白、黑。依据中国的五行理论,肝好心就好,心好脾就好,脾好肺就好,肺好肾也好,肾好肝更好。健康就是体内五脏互相调和,做到五行相生的适当平衡。
成 份:黃地瓜、非基改黃豆、南瓜、松子、核桃
五脏中的脾对应五色中的"黄色",因此黄色的食物可以健脾对消化系统很有疗效,
黄色膳食可健脾对消化系统很有疗效适合一下人群:
增强肠胃功能
恢复精力
补充元气
促进女性荷尔蒙分泌
内分泌失调
胃病患者
视力不佳者
工作繁忙者
生理问题
月经不顺
低温烘培、不燥、不寒、酵素不破坏、养分不流失、不怕虫卵细菌
Certified ISO22000,HACCP