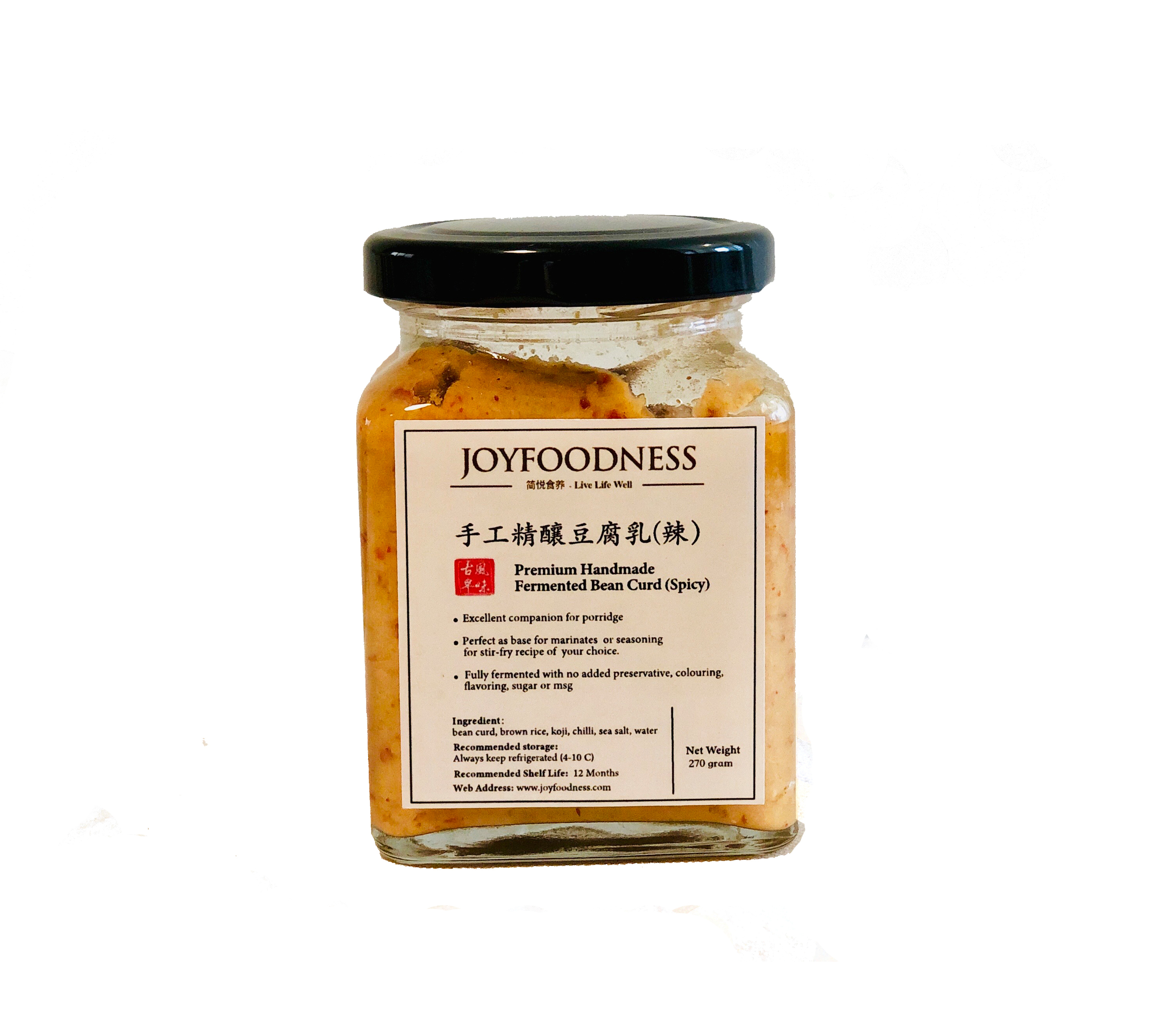 Premium Handmade Fermented Bean Curd (Spicy) 手工精酿豆腐乳(辣)
手工精酿豆腐乳采用糙米,海盐,米麴天然食材发酵。天然发酵的古早风味可以拌粥,面,饭,炒菜或当酱料食用。
发酵制品含丰富的蛋白质与生理活性物质。经发酵后的豆腐乳含有植物性的维生素B12可促进人体的造血、预防恶性贫血和营养神经等方面具有重要作用非常适合素食者。
不含人造色素,味精与防腐剂。
成份:豆腐,糙米,海盐,米麴,辣椒,海盐,水
建议储存温度:放入冰箱 (4°C - 10°C)
储存期限:12个月
净重:270 gram
注:豆腐乳里的白色顆粒是安全食用。黄豆发酵製品中,由于酵素作用,大豆中的蛋白质发酵过程形成的两种胺基酸不易溶于水中,分别是酪胺酸(tyrosine)与苯丙胺酸(phenylalanine)。
当这两种胺基酸在汤汁中含量过高,超出汤汁所能溶解的极限时(即过度饱和),便会形成白色颗粒结晶。
The signature artisanal products produce by fermentation of bean curd with brown rice, sea salt and koji.
Unpasterized and enzyme rich, this product come with characteristic aroma with exciting spiciness over the velverty soft fermented bean-curd.
Compliments amazingly with porridge, rice, noodles, perfect as base for marinates, seasoning for stir fry recipes of your choice.
Fermented bean curd can produce plant-based Vitamin B12 where Vitamin B12 is vital for red blood cell production which is important for vegan and vegetarian diet.
Fully fermented with no added preservatives, colouring flavouring, sugar or msg.
Ingredients:
Bean-curd, brown rice, koji, chili, sea salt, water
Recommended Storage: Always keep refrigerated (4°C - 10°C)
Recommended Shelf Life: 12 months
Net Weight: 270 gram